We are excited to share the gut renovation of a workhorse bathroom in Ridgefield, CT. This bath is located near a bonus area and sometimes used for housing overnight guests. It is also the closest bath to their pool. Because of its location it needed to be both a guest bath and a place swimmers could use the bathroom and shower off after the pool if they wanted. This bathroom renovation project was located in Ridgefield, CT and was completed in the Spring of 2022.
Client
The clients are working professionals who are parents of two active boys. They love to entertain friends and family. Most of their family lives out of town so when they visit, they stay for a few days. My clients wanted a bathroom that was comfortable and functional for overnight guests.
The homeowners had spent time living in San Diego. They love the relaxed coastal vibe as well as that beachy color palette. Their home is a traditional center hall colonial. We tend to see a lot of in our small New England Town. It is always a bit of a balancing act to get that light airy coastal feel while still being true to the style of the home.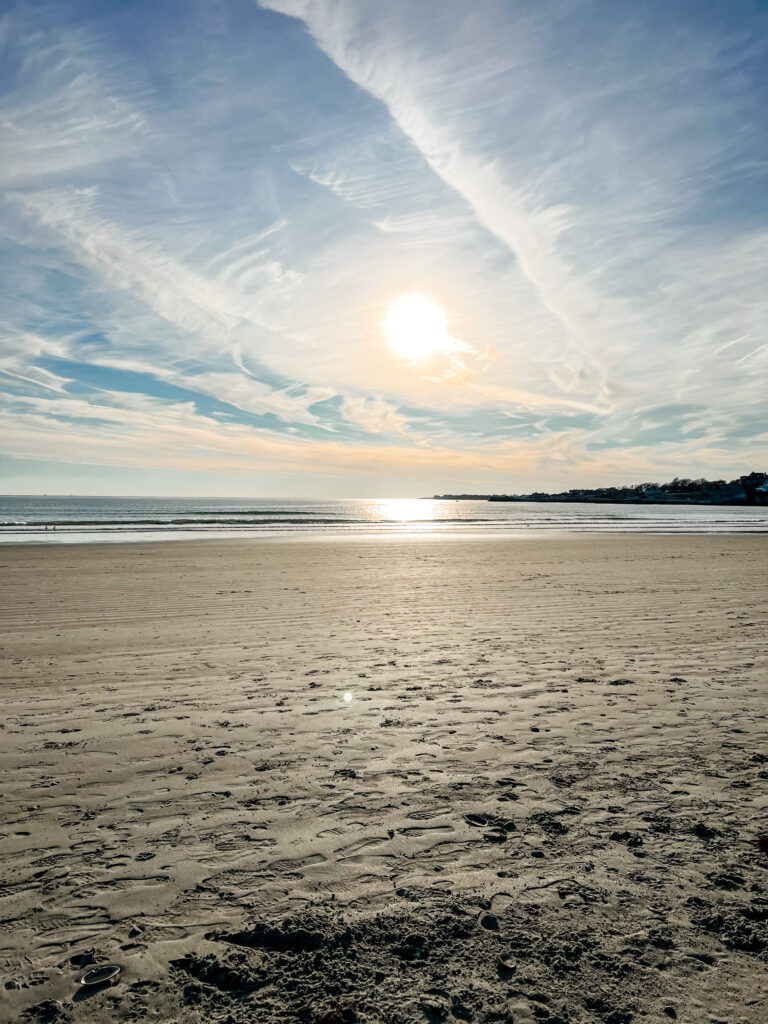 Mandate
The main goal for the overall design was to brighten up this bathroom. There is a small window located in the shower, however that window looks out into a large screened in porch. Needless to say that blocks any direct source of natural light. So it does feel pretty dark in there. The dark tile on the floor and yellow paint were not doing us any favors either. Our goal was to have this space shine.
The original bathroom had a pedestal sink which offered no storage. Space was needed to put hand towels and toilet paper, and a spot guest could put their toiletry bags when they visited. Overall this family wanted a bathroom that felt modern and fun like them.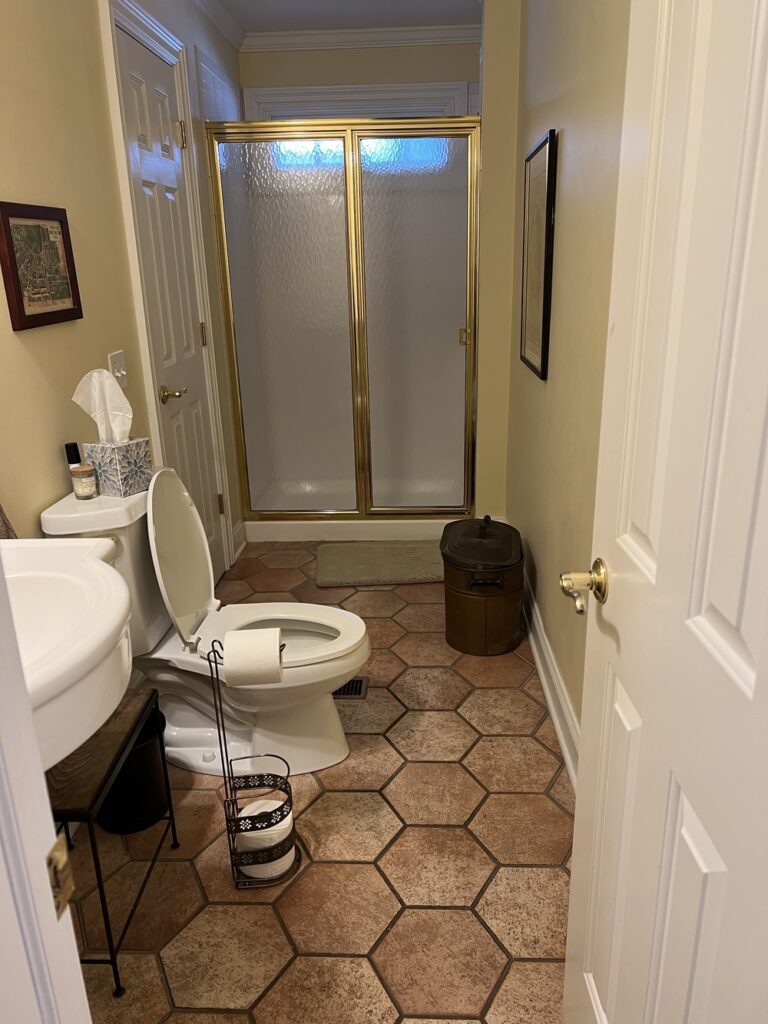 Execution
In order to lighten things up in this dated bath, we chose a white ceramic herringbone floor tile and white glazed handmade subway tile. As an accent we decided the back wall of the shower would be this beautiful blue tile. With the visual focus on that back shower wall, we selected a large chrome rain head shower. Centering the shower head on the ceiling for a focal point and to add a little sparkle to the space. The chrome fixtures would almost act as a mirror to reflect any light and bounce it around the room. We also went with white walls and cabinetry to brighten things up.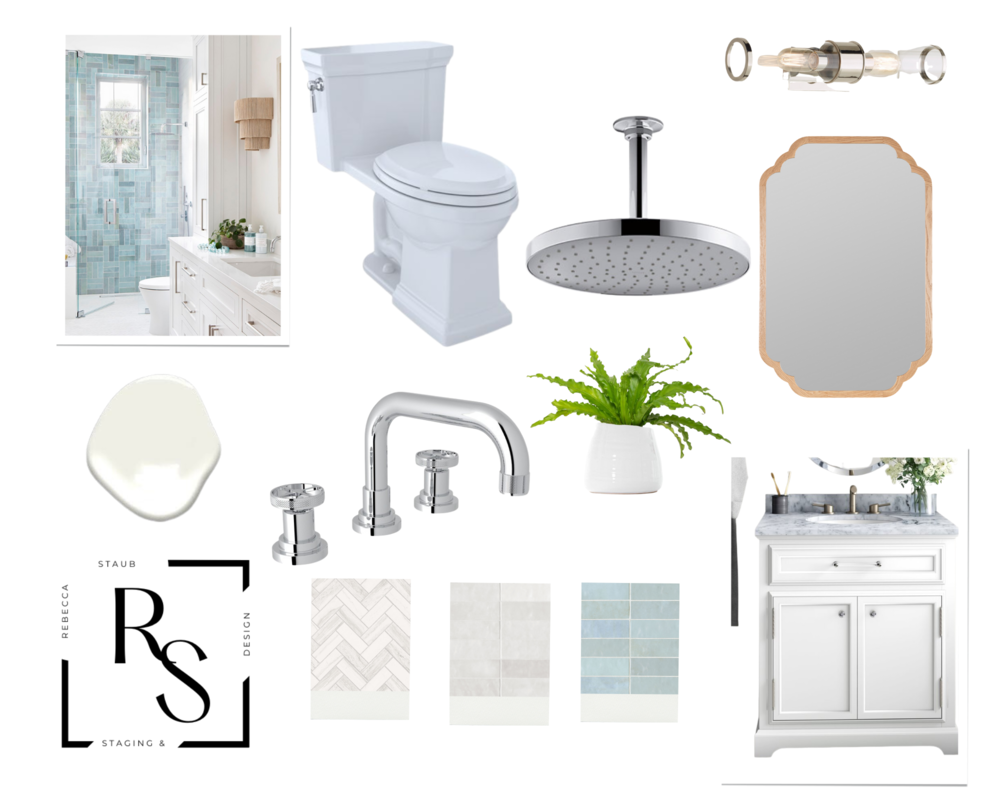 Trust the Process
The clients were on board with our selections which gave us the creative freedom to put our stamp on this project. The design plan was built around ceramic tile because this room was such a workhorse. The homeowner didn't want to have to worry about anything too precious such as natural stone like marble or limestone. Our preference was a mosaic tile on the floor. There would be kids running from the pool to this bathroom. Those grout lines add some traction and cut down on any children slipping and sliding around the place. We sourced a marble look alike ceramic tile in a herringbone pattern. This tile felt fun and fresh but still nodded to the traditional bones of the home.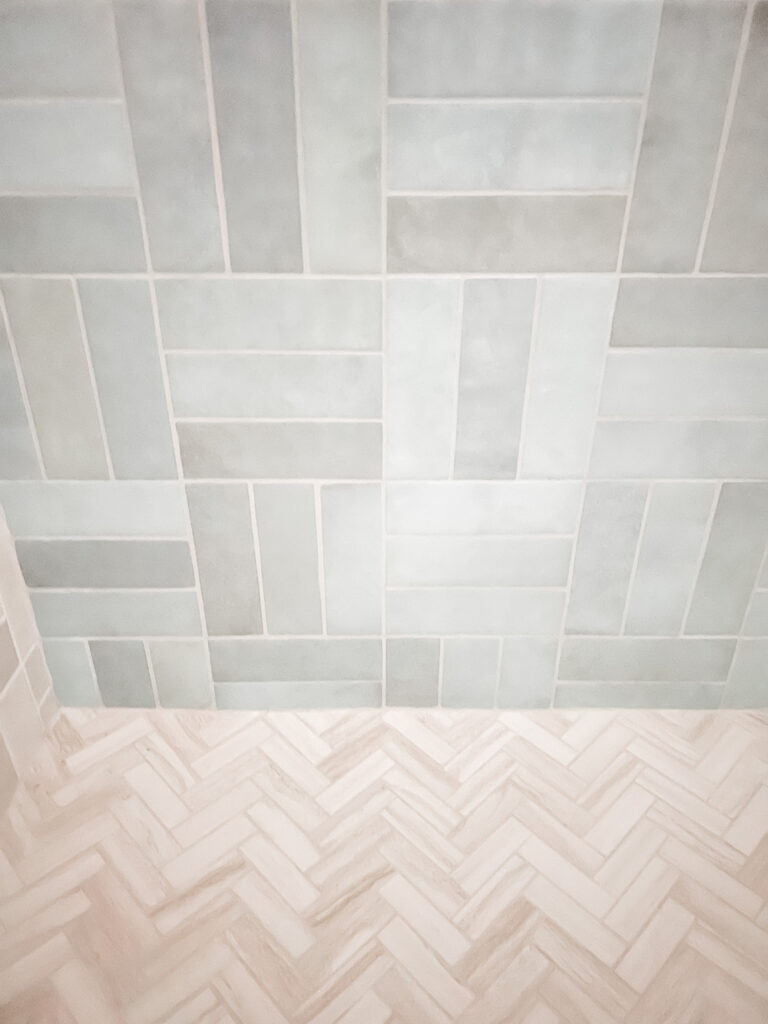 Our choice of chrome fixtures played well off of the cool blues in tile. This faucet makes our heart sing with its industrial vibe. The metal wheel handles withe the knurl detail are unexpected and help bring interest to the faucets.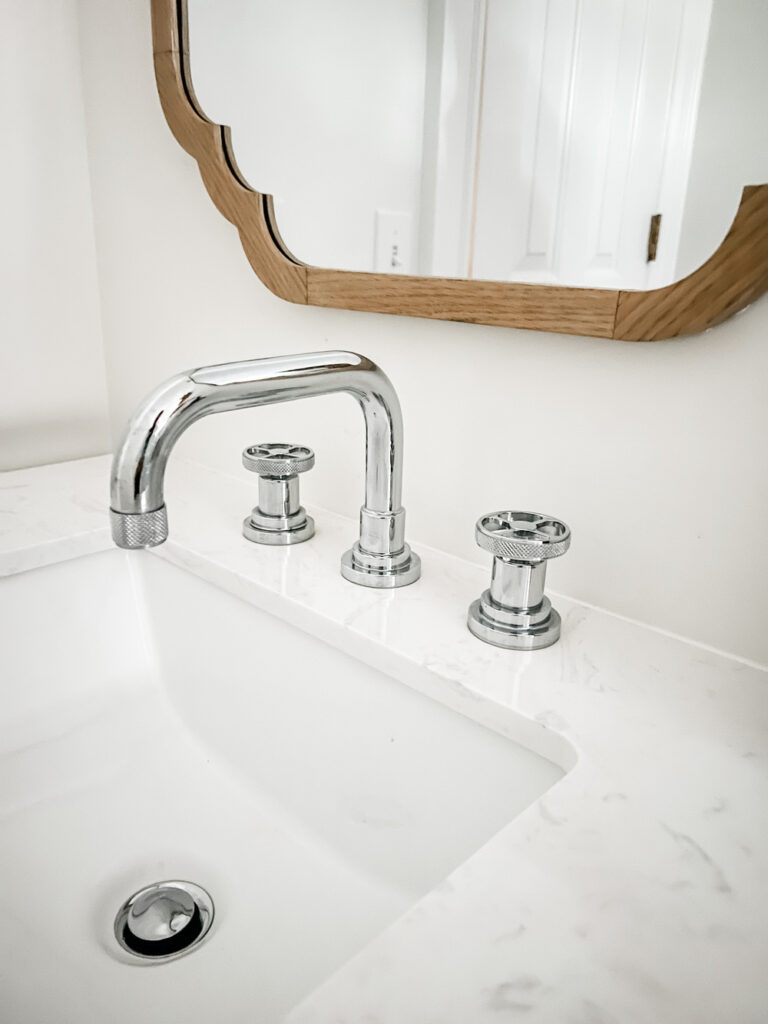 Shopping Local
In order to contrast with all the cool tones, we warmed things up with a wood framed mirror and live edge wood floating shelves. The wood shelves added storage for some styling items. Accessories bring warmth and softness to a room that is filled with hard and cold surfaces. The wood for the shelves was sourced from a local farm here in Ridgefield, and fabricated by a local carpenter. We love supporting our local Ridgefield CT small businesses in this bathroom renovation.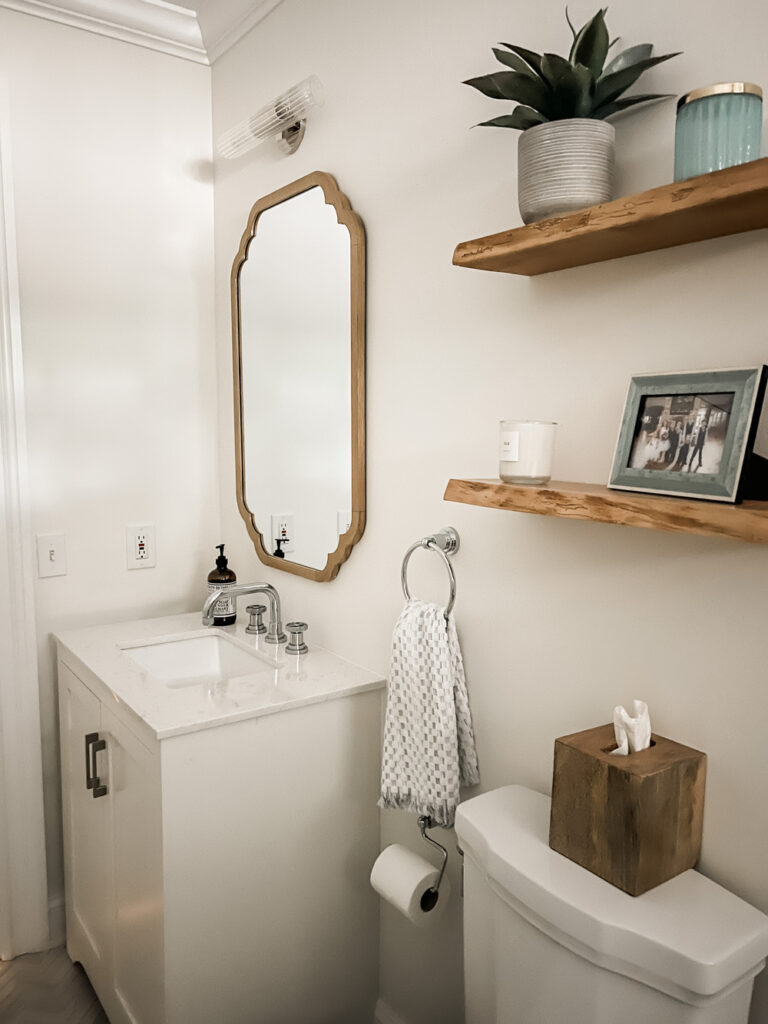 It's All in the Details
We chose a sweet bar sconce centered above the mirror. You can see from our mood board above that we originally specified a clear glass. After further consideration went with a fluted glass. Fluted anything is on trend at the moment. It will also show less dust and product (think hairspray or dry shampoo residue) down the line.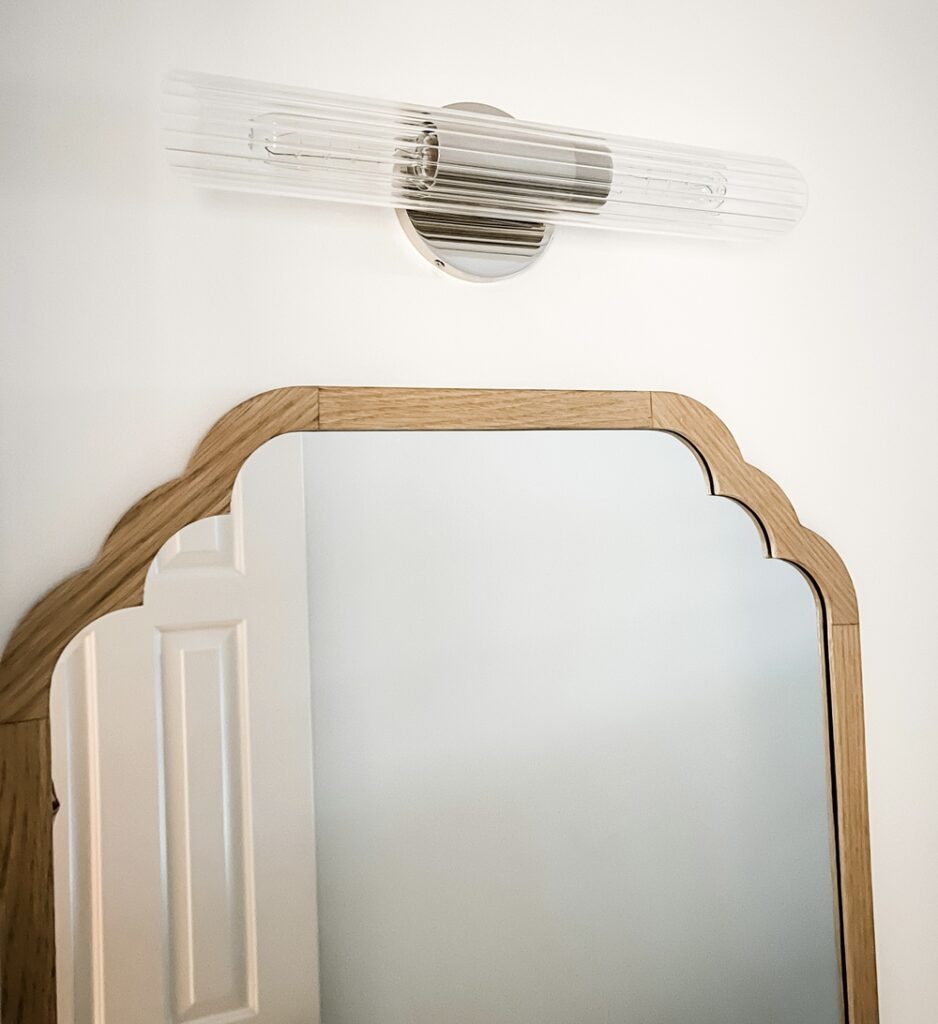 Another look at the chrome fixtures and basketweave tile pattern. The hand crafted ceramic tile had so much variation and we chose a basketweave pattern which added interest. Who says subway tile has to be boring? We love to play with traditional materials in a traditional style home. However, we use them in a fresh and interesting way that makes the house feel current.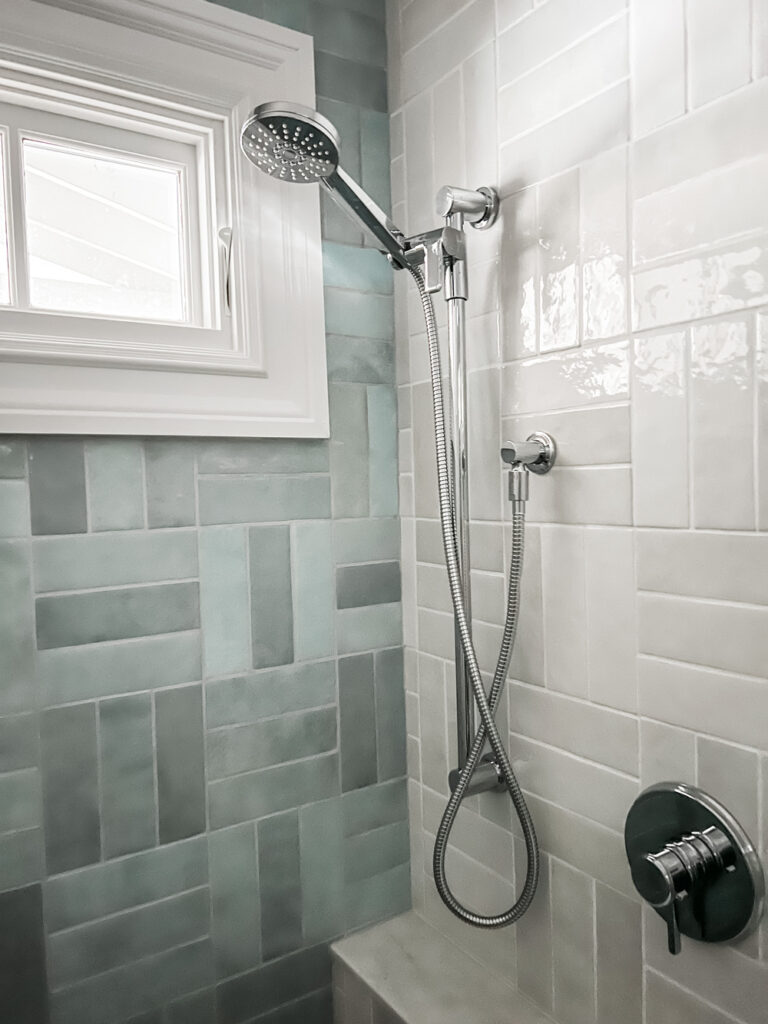 CONCLUSION
We love the way this bath encompasses a fresh airy vibe but it is still super functional and durable! This bathroom is fun and one of a kind and our homeowners were very happy with the results. Supporting local business is important to us. We were able to infuse the wood from a local farm and employ some local Ridgefield CT small businesses during this bathroom renovation. We are proud to have them put their stamp on this project.
What is your favorite part? Tell us in the comments! We think it is the tile and that faucet for us. We love the texture of the tile and the knurling detail on those wheel handles of the faucet.
Are you planning your own dream home and need some guidance on how to make the project come together? Or are you exhausted by all the little details you have to decide on? We can help. Let's have a conversation and bring your dreams to reality. Check out our projects here. Contact us for a free discovery call today. You can also follow us on Instagram to see our daily updates!