A Turn Key Experience
We are excited to share one of our latest Sarasota, FL interior design projects which included furnishing a second home for our lovely clients. The property was a new construction and located in the Lakewood Ranch. If you have been following along on instagram you know we call this project Lake Joy.
Client
The clients are Connecticut natives who recently purchased a second home in a new development in Sarasota, Florida. They found a fabulous community that they loved and as with most new construction they started touring the model homes.   The wife loved the way these model homes were designed and how everything was completely styled and cohesive. However she admitted to me during our consultation that she hated design, decorating and shopping. They are both busy professionals who didn't have the time to deal with all of the decorating decisions so they called Rebecca Staub Staging & Design for help. We couldn't be happier that they did, because these types of full service design projects are our specialty.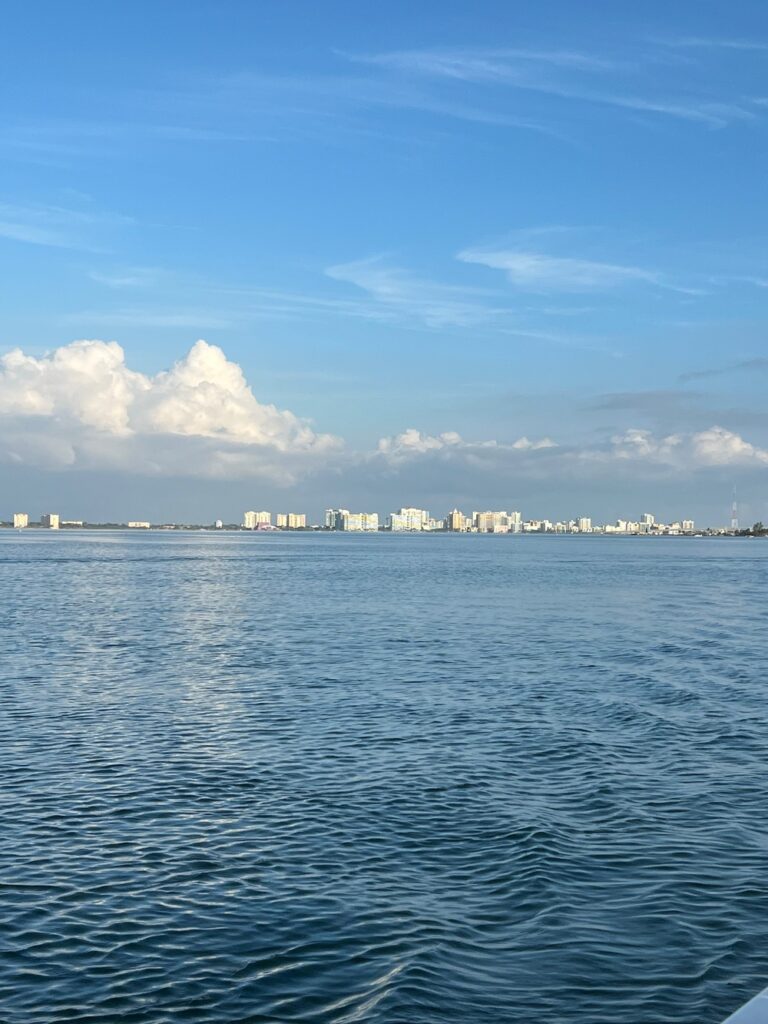 Mandate
The goal was a comfortable space that was elevated without being too stuffy. Formal was not for these dream clients, but they were not really sure how to describe the style they were looking for. We needed to add some chandeliers and pendants to give this new build some personality. There was a gray kitchen that had been selected prior to our team joining the project. The main living area is open concept so all the rooms had to play nice together.
Execution
As I mentioned, my client was not excited about decorating. The esthetic for their home up north was very New England with furnishings that leaned a little on the darker side. I wanted to lighten things up down south, so they could feel like they were worlds away and on vacation while staying there.
We know decor really can change the way you feel when you are in a space and we design in order to evoke emotion. For this project we wanted relaxed and happy colorful vibes. I knew the client liked blue because she had commented on a few of the model tours she had shown me during the consultation. I also knew blues would compliment the existing gray kitchen cabinets. Here you can see our blank slate during our walk through of the property.
Design Development
When it came to the design we incorporated blues and creams which nod to the crystal blue waters and white sand beaches of Sarasota, Florida. We went for performance fabrics so that nothing was too precious during visits from the grandkids. We also had a request from the husband for a recliner, it was his only request and we were happy to oblige.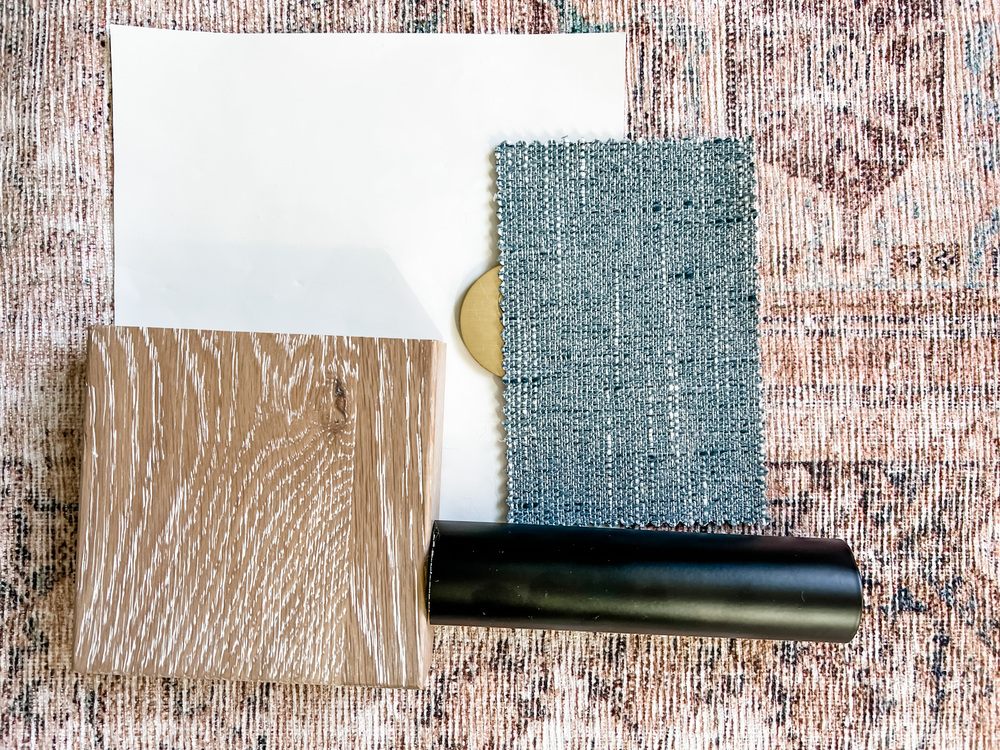 A lot of our color scheme through out the home was on the lighter side. In order to ground that light and airy feel we added black iron details throughout. From the lantern style lighting over the island to the black iron bases on the end tables in the living room. There is a gorgeous black mirror in the dining area that reflects light in an otherwise dark area of the house. The mirror also mimics the arches to the dining room and the window over the front door which you may hear me talking about in the before video above. Clearly I get excited about all of these design details.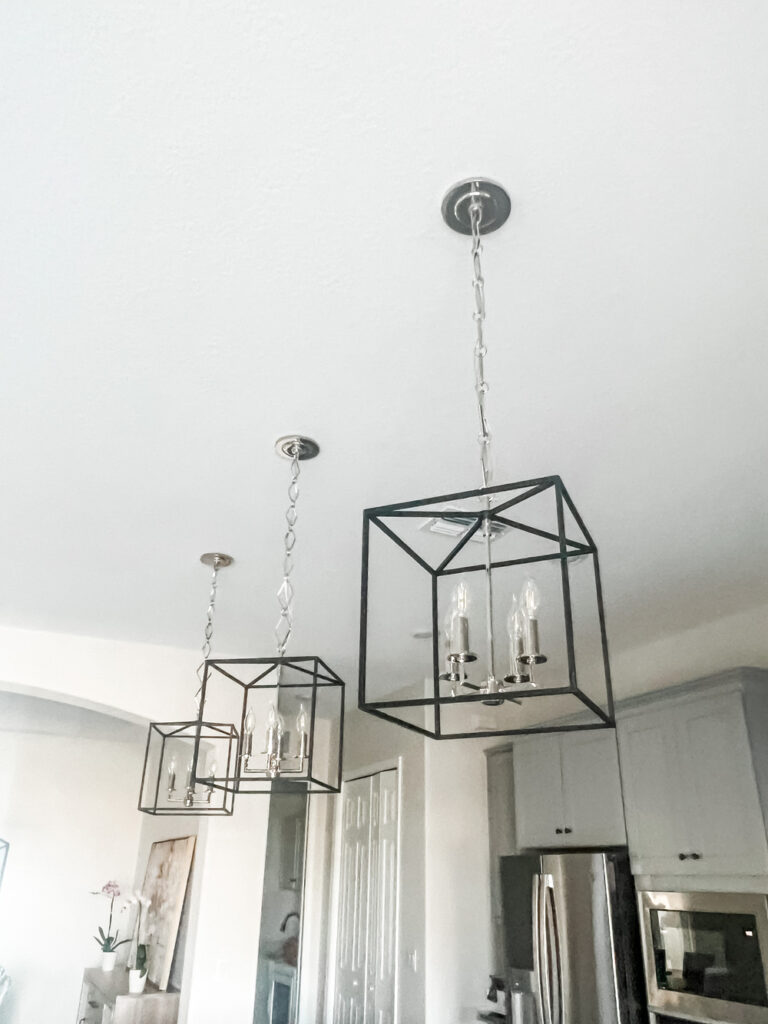 I think the dining chairs which coordinated with the counter stools in the kitchen might be one of my favorite details in the project. They are a formal style chair, but the limed oak and blue kid friendly fabric bring a relaxed vibe to the space. There is also a lot of texture in the fabric which help them feel less formal.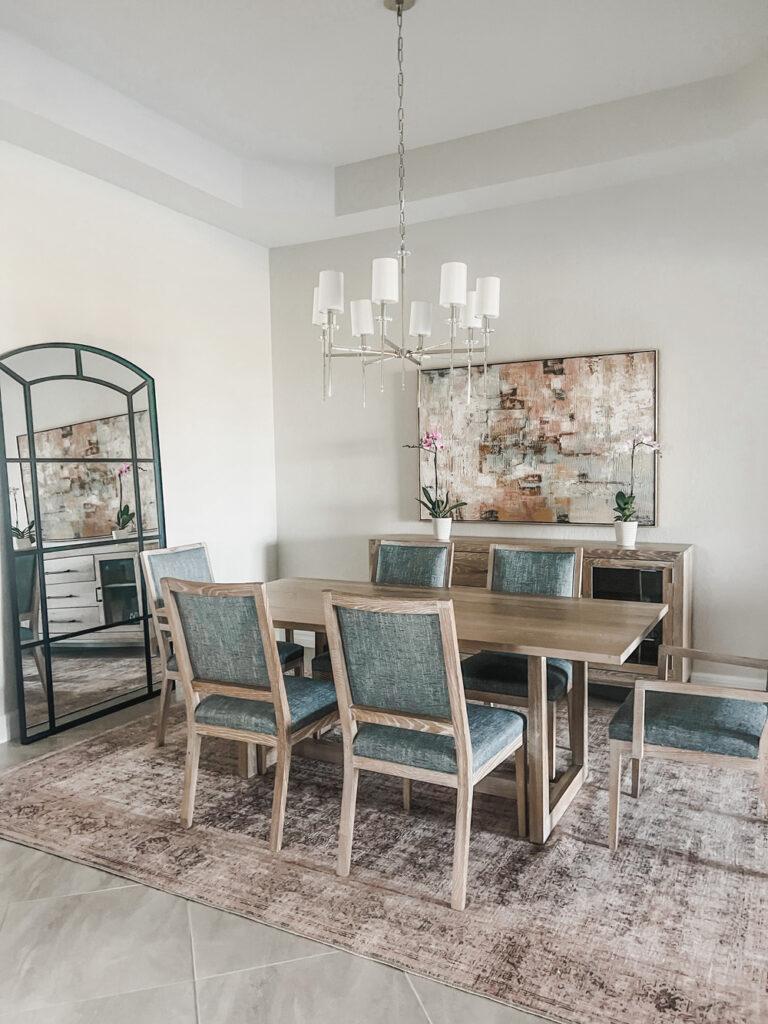 Another favorite detail is the patterned club swivel chairs. The fabric is so much fun. The wood base gives us that coastal feel. These chairs are incredibly comfortable and the swivel is great for conversation or TV watching. They add a little something extra to the space.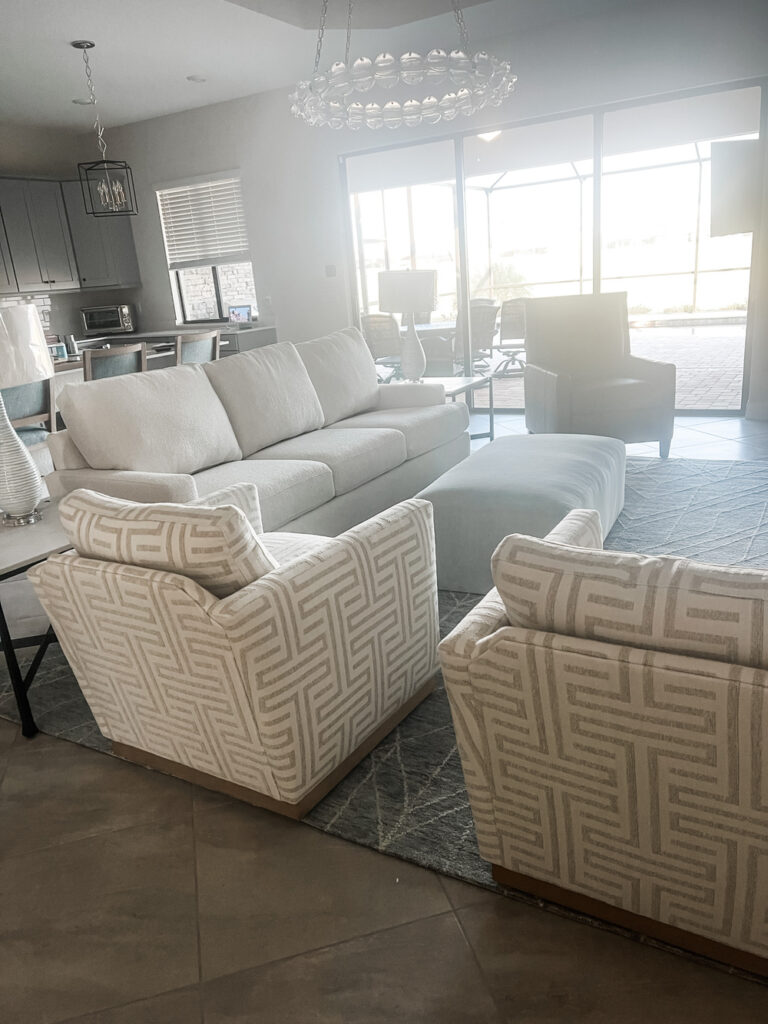 Styling
All of the area rugs in this home are show stoppers. We have a thing for fun rugs that are high quality and can take a beating. The large ottoman is big enough for everyone to put their feet up on and adds to the relaxed vibe. You can also add a tray and it becomes a spot to rest drinks or snacks.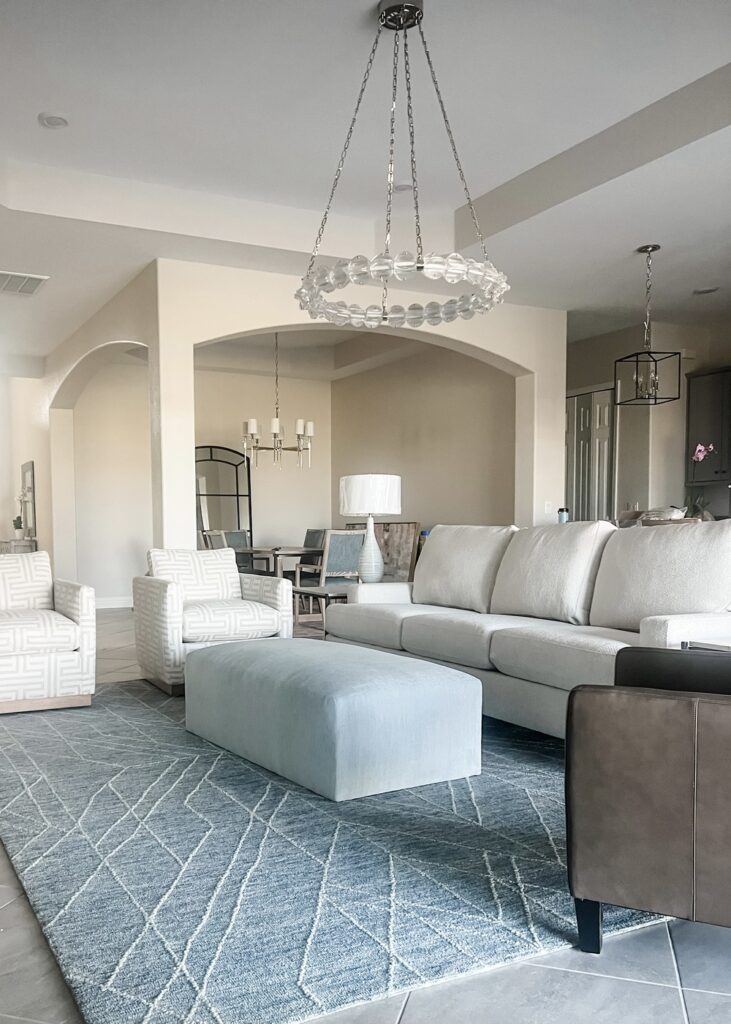 The lighting in this space was spectacular. The polished nickel shined bright but did not overpower the space. The traditional styles with a modern twist helped solidify the transitional style that the clients desired. The beautiful lighting elevated the home and brought in a lot of sophistication and of course a little bling.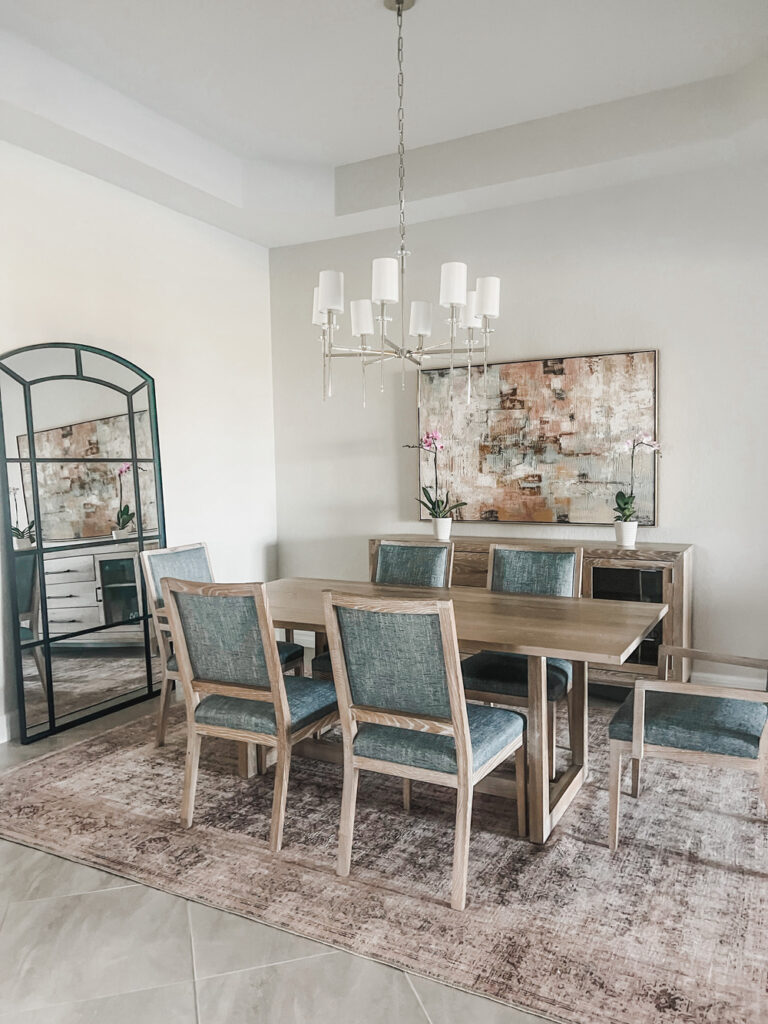 We added abstract art, mirrors and some fabulous table lamps to this space to bounce light and infuse even more color to our blank slate.
Conclusion
We were so excited for the client to have that moment you see on the TV shows where they come back to their home and it is totally transformed from the way they left it that morning. It took a ton of hard work, some sweat, and even some (happy) tears by the home owner when they saw their space complete.
What is your favorite part? Tell us in the comments! I think it is the lighting and the club chairs for me. I love the way the colors pop, but do not overpower the space.
Are you planning your own dream home and need some guidance on how to make the project come together? Or are you exhausted by all the little details you have to decide on? We can help. As you can see we practice interior design in Sarasota, FL and beyond. Let's have a conversation and bring your dreams to reality. Call us for a free discovery call today. You can also follow us on Instagram to see our daily updates!